Here Goes Kenya is supported by its audience. We may earn an affiliate commission when you book an experience or hotel through links on our site. Learn More
Lake Naivasha is a stunning freshwater lake in Kenya, which lies northwest of Nairobi and Naivasha town on its northeast edge. It is part of Africa's Great Rift Valley and a top destination to visit in Kenya. Its name derives from Nai'posha, a local Maasai name, meaning rough water due to the afternoon wind and sudden storms that can arise. The lake is home to a magnificent array of game and birdlife.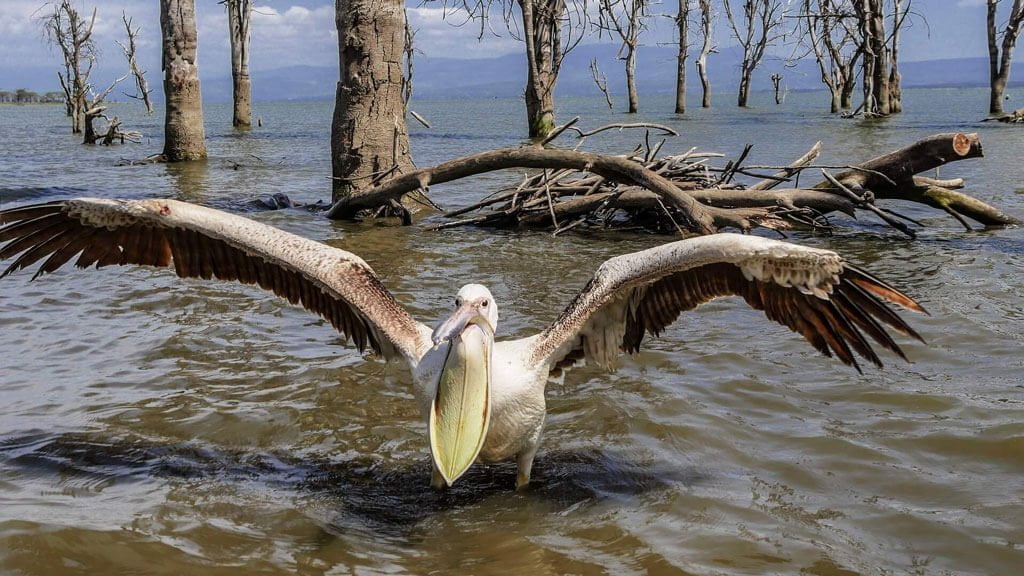 ---
The History of Lake Naivasha
Between 1937 and 1950, Lake Naivasha was utilized as a landing place for flying boats on the Imperial Airways passenger and a mail route from Southampton, Britain, to South Africa. It linked Nairobi and Kisumu. In the mid-1960s, the lake served as home to Joy Adamson, the author of Born Free.
---
Top Rated Lake Naivasha Tours and Activities
---
About Lake Naivasha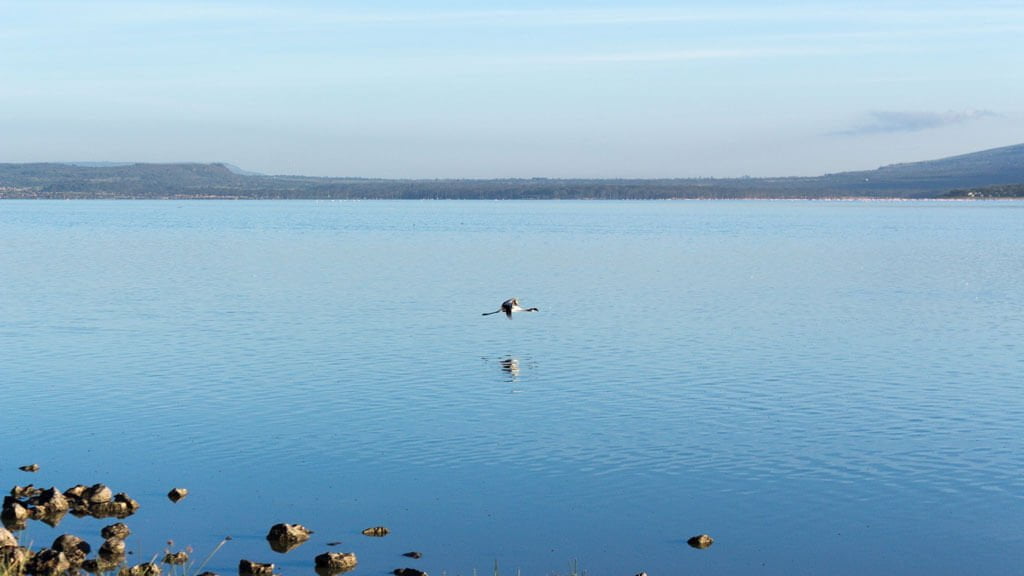 The 13 km wide lake covers an average of 139 sq. km to 180 sq. km fringed by thick papyrus and a 64 sq. km swamp. Its size varies considerably according to rainfall. It has an average depth of 6m (20 ft.), with Cresent Island being its deepest part at 30m (100 ft.).
Njorowa Gorge formed the lake's outlet but now lies high above the lake, establishing Hell's Gate National Park entrance. Lake Naivasha and its environs are opulent in natural glut, and the water supply and fertile soils make it a prime agricultural region in Kenya.
---
What to see in Lake Naivasha
The lake waters lure a vast range of game to the shores. A significant hippo population sleeps the day out in the lake shallows; buffalos wallow in the swamps; Colobus monkeys call from the treetops, and the Giraffes wander among the acacia. Other wildlife species include zebras, kongoni, eland, impala, and gazelles, which abound in the park.
Forests of the yellow-backed Acacia xanthophloea (yellow fever tree) hem in a large portion of the lake. These forests thrive with birdlife; over 400 different species. Naivasha is perceived as a world birding destination. The area was declared a national park to protect the rarest of Kenya's vulture (the Lammergeyer) population on the rocky cliffs.
There are two smaller lakes in the proximity of Lake Naivasha: Lake Sonachi (a green crater lake) and Lake Oloiden. Visitors can also visit the nearby Crater Lake Game Sanctuary or explore the lake shores populated by European settlers and immigrants.
---
What to do in Lake Naivasha
Lake Naivasha is very close to Nairobi, making it an exceptional recreation area for city dwellers. Locals and international tourists often go there for game-watching trips, adventure trekking, fishing, sailing, and water-skiing activities organized for leisure purposes. Boat trips on the lake are also available, and it's a fantastic way to spend a morning or an afternoon.
Watch the stunning sunsets, with the lingering call of an osprey high over the lake bringing the day to an idyllic end.
Visitors can climb rocks at Hells Gate National Park or sightsee the sky-throbbing Fischer's Tower. The park is known for its pair of colossal red-tinted cliffs framing a geothermically active interior of bubbling springs and steam vents. Walking is permitted, making it perfect for biking, hiking, and rock climbing.
---
Lake Naivasha Tours and Activities
---
How to get to Lake Naivasha
The primary road access to Lake Naivasha is through the Nairobi-Nakuru Highway. One can directly access the lake from either town, Nakuru or Nairobi, by bus/matatu or private transport. Naivasha town is merely over an hour from Nairobi. There is an airstrip in Naivasha, with charter flights available. Some guesthouses and lodges around the area have private airstrips. Moreover, several hotels and lodges in the expanse can organize transport from Nairobi to Naivasha.
---
Getting Around Lake Naivasha
Most places of interest in Naivasha are around the lakeshore, out of town. A taxi or a private car is a suitable means to get around and explore this region. Many lodges and hotels organize local excursions.
---
Where to stay at Lake Naivasha
Naivasha has an extensive array of accommodation to suit all tastes, budgets, and interests. It has luxury hotels, private guesthouses, basic campsites, rental houses, cottages, farms, and homestays.
---
Lake Naivasha Accommodation Deals