Lake Logipi is a minor lake located in the northern Kenyan Rift Valley. The saline, alkaline lake lies in the northern end of dry Suguta Valley, south of Lake Turkana. It lies approximately 48 km from Lake Turkana and is separated by the barrier volcanic complex.
Lake Logipi is about 6 km wide and 3 km long and has a maximum depth of 3m to 5m. Its waters are composed of sodium bicarbonate with a pH of 9.5 to 10.5 and salinity that ranges from less than 20 g/l to more than 50 g/l. Efflorescent salt crusts are present around its margins. Lake Logipi's shores are very barren and entirely enclosed by mountains. On the east shore, there are three apparently barren islands. Soft layers of silt of different hues of brown lie below the shallow water.
On the northern shoreline and at Cathedral Rocks near Lake Logipi's limits, saline hot springs discharge and help to maintain water at times of extreme aridity. During the rainy season, the lake is fed by the Suguta River, which flows northward along the Suguta Valley, occasionally forming Lake Alablab (a temporary lake), which unites with Logipi.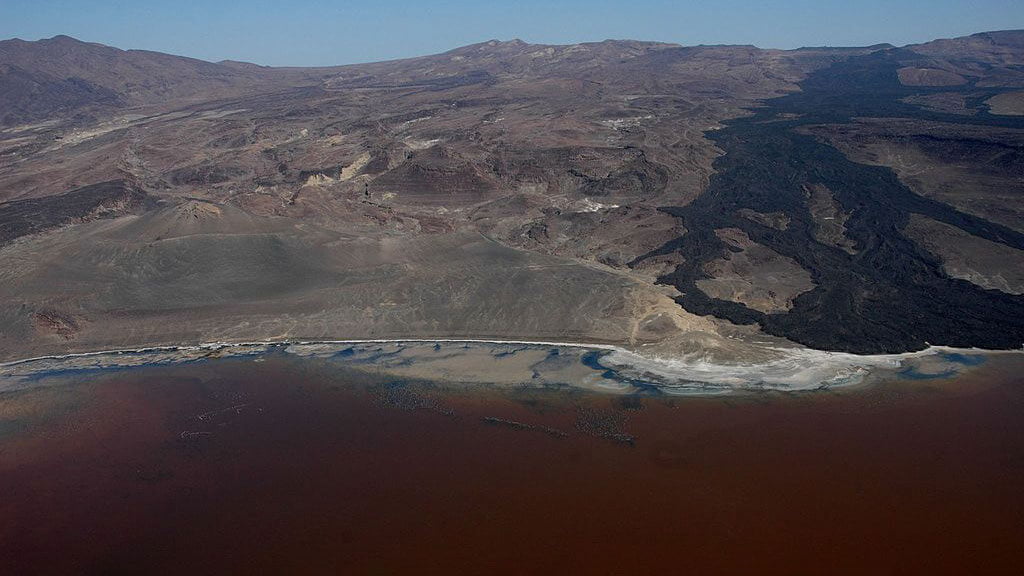 Lake Logipi is a flamingo haven, inhabiting the saline waters and feeding on cyanobacteria and other plankton. The colorful flamingos migrate from Lake Nakuru and Lake Bogoria to the remote shallow lakes. Logipi is a hidden gem in the northern part of Kenya that has a lot yet to be discovered.