Shimba Hills National Reserve
Hightlight
Archeological Safaris

Bird Watching

Camping Site
Shimba Hills National Reserve lies approximately 33 km south of Mombasa town in Kwale County just south of Kwale town. The coastal ecosystem comprises a heterogeneous habitat including forestlands, exotic plantations, scrublands, and grasslands. The ecosystem holds one of the largest coastal forests in East Africa after the Arabuko-Sokoke Forest.
Shimba Hills National Reserve is the only place in Kenya to view the sable antelope. The reserve is rich in flora and fauna and hosts the highest density of African elephants in Kenya. Shimba Hills was gazetted as a National Forest in 1903, grassland areas were incorporated in 1924 and several subsequent extensions took place to bring the reserve to its present size. In 1968 most of the reserve was double gazetted as the Shimba Hills National Reserve. Two smaller areas to the west adjoining the reserve and almost entirely forested remain as forest reserves; Mkongani North and Mkongani West Forest Reserve. A fenced elephant corridor connects the Shimba Hills with Mwaluganje Forest Reserve to the North.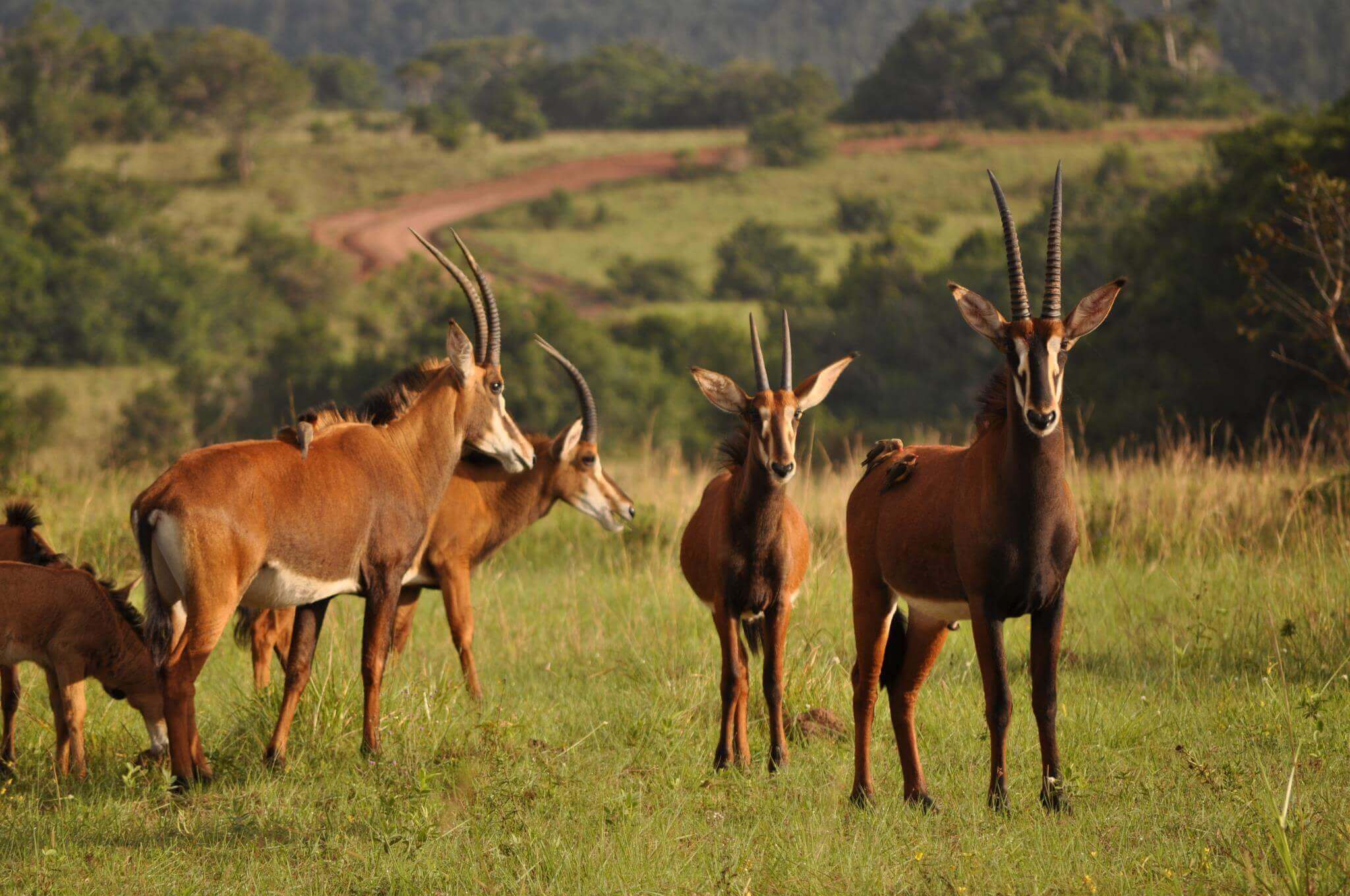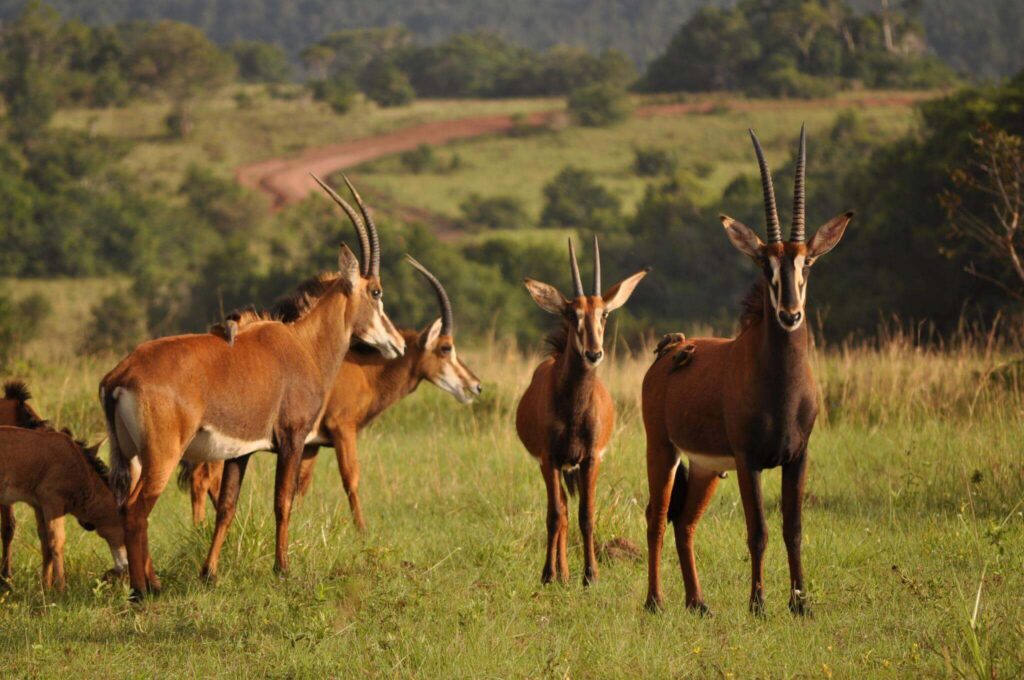 ---
Major Attractions
Scenic landscape comprising hills and valleys extending beyond the reserve boundaries
Coastal Rainforest
Sable Antelope
Elephant habitat
Mwaluganje Forest
Various viewpoints
---
Wildlife at Shimba Hills National Reserve
Include endangered Sable Antelope, Elephants, Buffalo, Giraffes, Leopard, Genet, Civet Cat, Hyena, Waterbuck, Reedbuck, Warthog and Bush Pig, Baboon Plus Sykes', Black-faced Vervet Monkey and Angola Colobus Monkey, Serval, Red Duiker, Blue Duiker, Bush Duiker, Greater Galago, Black and Red Shrew and Knob-Bristled Suni Shrew.
Introduced species include Maasai Giraffe and Ostrich.
Birds: Over 100 bird species have been recorded, of which 22 are coastal endemic among them are Ostrich, Eagle, Africa Hawk, Falcon, Cuckoo, Guinea-Fowl, Kenya Crested, Honey Gide, Hornbill, Crowned, Quail, Sunbird, and Uluguru.
Reptiles: Python, Cobra, Lizard, and Gehr
---
What to Do
Game viewing
Camping
The potential for bird-shooting outside the reserve
Walking safaris
---
How to Get to Shimba Hills National Reserve
Road: From Mombasa, take a ferry at Likoni to access the southern coastline where Diani and Tiwi beaches are. Then take the main A14 coast road 10 km southwards until you join the main crossroad. Follow the road climbing to Kwale Town (C106). The main fare is 3 km from Kwale.
Air: 1.5 km airstrip. Regular flights also at Ukunda airstrip at Diani Beach and at Moi International Airport in Mombasa.
---
Other Park Details
Park Size
300 square km
Park Fees
Go to www.kws.go.ke or contact the tour operator.
Accommodation
In-reserve accommodation and camping facilities are available.
Climatic Conditions
The climate is hot and moist but cooler than that the coast with strong sea breezes and frequent mist and clouds in the early morning. Annual rainfall is 855-1,682 mm. The mean annual temperature is 24.2°C.
FAQ's
When is the best time to visit Shimba Hills National Reserve?
What can I take with me when visiting Shimba Hills National Reserve?
Drinking water, picnic items, and camping equipment if you intend to stay overnight. Also useful are: binoculars, a camera, hat, sunscreen, sunglasses, and guidebooks.
Google Reviews
Shimba Hills National Reserve
4.2
715 reviews
Nice place to visit with family, hangout with friends. you can enjoy nature wildlife.

This is great place for a weekend getaway for the family and friends too especially if you have sleeping tents and camping gear.

Nemm Tours and Safaris Ltd
6 months ago
Beautiful landscape and refreshing cold shower from the falls. The hike down and up is a good work out! Very caring rangers on escort to the waterfalls.

Shadrack Wafula
a year ago
Coming soooon

It's not a place where you can show up and access without very good planning. Access fee is $20. They offered a guide from the area for $40 incl $16 for the car fee and $2 for other fees. It's better to organize all from your hotel before going.