As an incredible tourist destination, Nairobi has a lot to offer to everyone who spends their ample time in this East African city. A discerning horseback experience in Nairobi is a great way to embrace the cool air, enjoy the region's beautiful landscape and feel at one with the indigenous people.
Most stables have rides tailored to ability level, so you can be a beginner and still have a safe, fun ride. These stables offer lessons, riding sessions, and even guided trots. The horses are highly trained, and the hosts are extremely professional. Check into special deals offered, such as lunches or dinners on the trail.
From novice to jockey, here are the best places to go horse riding in Nairobi.
---
Malo Stables
Malo Stables have horses and ponies to suit all capabilities ranging from beginners to accomplished riders. They offer professional training on highly educated horses competing and placing in national shows. They teach proper techniques in the discipline of dressage, show jumping, and eventing.
Prices range from $60 per hour for non-residents, KSh 6,000 per hour (2 hr rides or more only, min. four riders) for EA residents, and KSh 55,000 for pre-paid packages of 10 hrs in the forest.
You need a 50% deposit to secure your ride – it can be paid via Mpesa, bank transfer, or dropped off in cash.
Malo Stables Contacts: 0704 494464
---
New Muthaiga Horse Riding Stables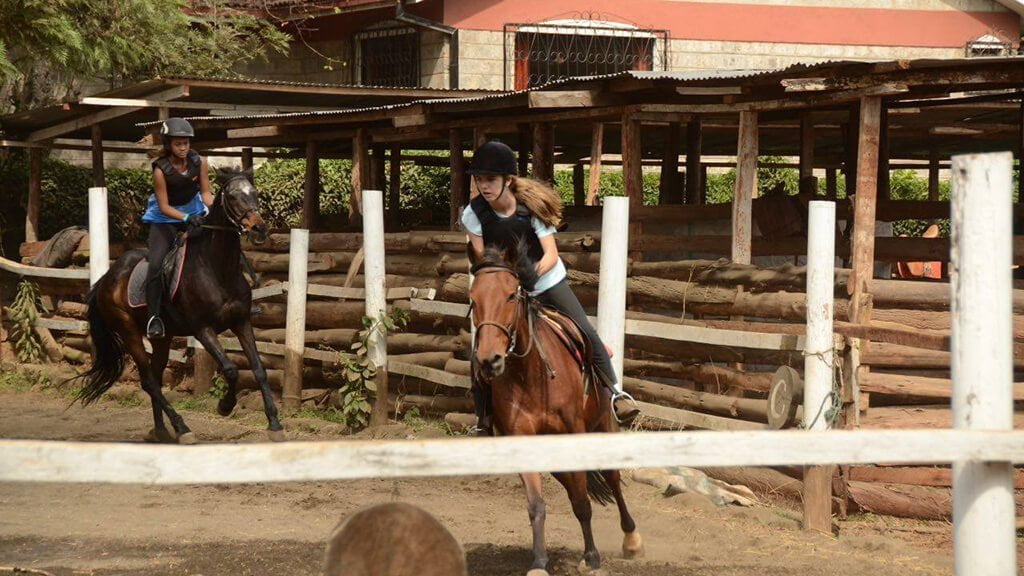 New Muthaiga Horse Riding Stables offer horseback riding lessons for adults and children, forest rides in Sigiria Forest, and a few more distractions for kids: Ms. Cat, Dora the Dog, a handful of rabbits, and chicken, liveries, pony rides for birthday parties and other functions.
The stables are located at Manga Gardens, off Kirawa rd, Kitusuru.
New Muthaiga Horse Riding Stables Contacts: 0721 421728
---
Xina Horse Riding School and Stables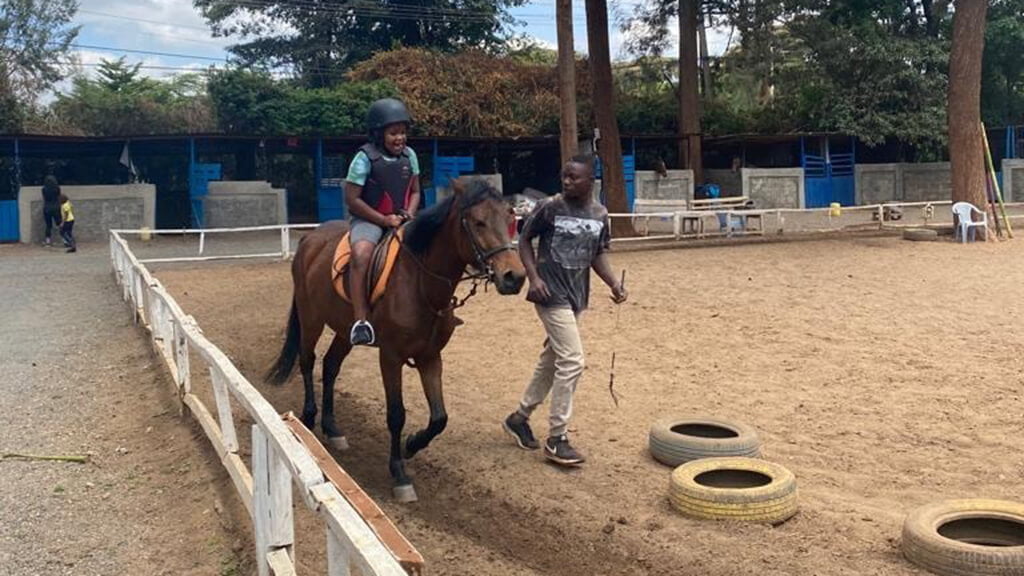 Xina Horse Riding School and Stables is located in Kiambu along Ridgeways Road. The school is a calm place away from the hustle and bustle of the city for kid's horse riding and horse care sessions. They offer classes for the absolute novice to the more confident and experienced riders. Your children will get up close with horses and have fun riding around the stable while parents ultimately enjoy an exciting horse show.
Xina Restaurant has a wide range of cuisines on their menu to choose from, delicately prepared by their in-house chef on order.
Xina Horse Riding School and Stables Contacts: +254 112 030664
---
Hardy Stud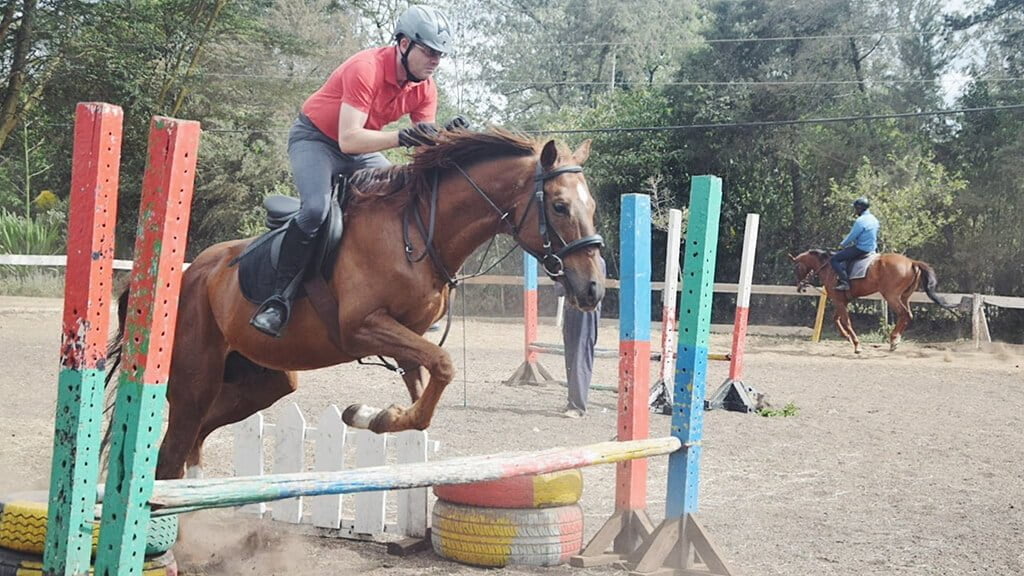 Hardy Stud is one of the best places for horse riding in Nairobi. It is located in the serene Karen area and offers informative horse riding sessions on a 10-acre piece of land. You can learn from experienced and qualified trainers and caddies irrespective of your age; the horseback excursions are fun for adults and children. The age bracket ranges from 1 year to 65 years!
Hardy Stud offers skilled instruction on beautiful horses and ponies that are fit and a joy to ride. With the proper instructions, any rider at any level is accommodated through their broad range of horses and saddles.
Hardy Stud Contacts: 0722 737220
---
The Waterfront Stables Horse Riding School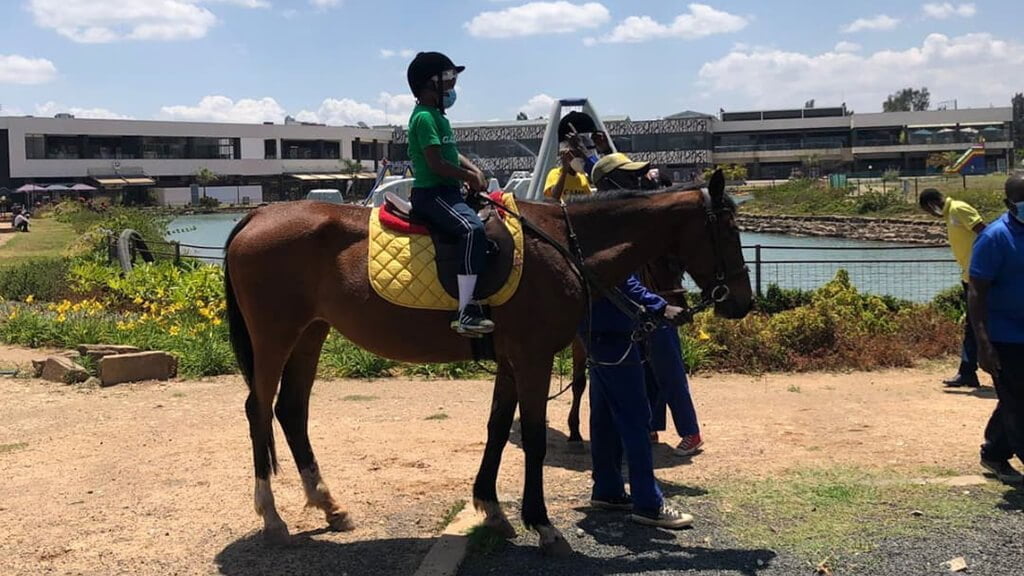 Located within The Waterfront Mall in Karen, The Waterfront Stables is the only equestrian facility in East Africa that provides a first-class horse riding experience in an easy-to-access environment.
Waterfront Stables offers various riding programs that begin with basic horsemanship (balance, horse control) to more advanced skills for different styles of horse riding from dressage, show jumping, cross country, Western (American) riding, and trail riding. The school is open to all ages.
The Waterfront Stables Horse Riding School Contacts: 0799 966942, [email protected]
---
Achi's Ranch and Horse Riding Club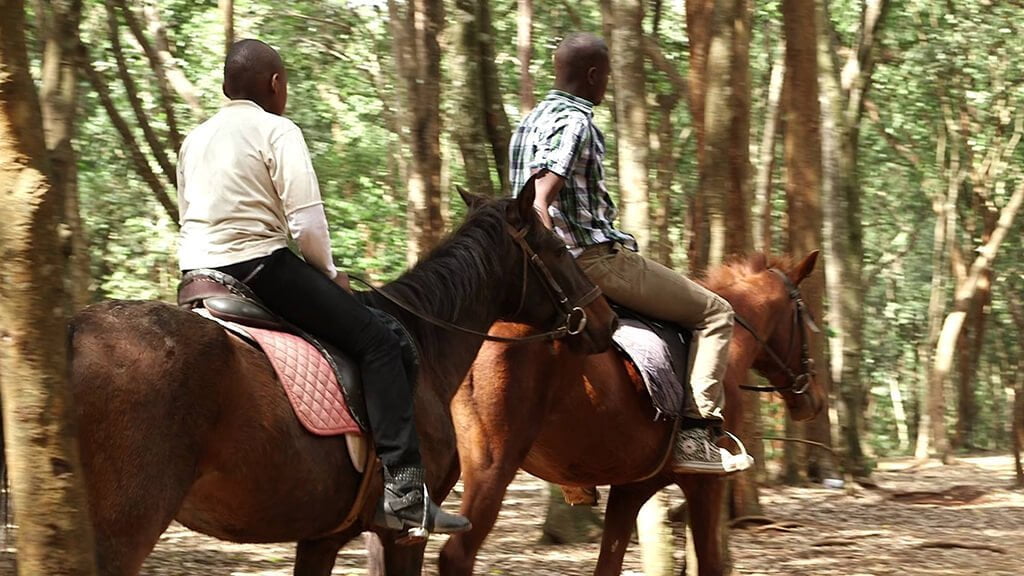 Achi's Ranch and Horse Riding Club is situated off Forest Edge Road, approximately 1.5 km from Bomas of Kenya, Mikinduri Road on Mikinduri Lane. The ranch is one of the best places for horse riding in Nairobi, offering riding classes for beginners. The horse-riding excursions in Achi's Ranch and Horse Riding Club take place through the Ngong Forest. There are well-trained professional horse trainers to lead the way into the wild, ensuring safety and making it a more fun activity.
Their horse riding charges: For KSh. 1000 per hour, you will get 15 minutes training sessions for beginners. This amount includes the park entry fee and can take more than an hour, depending on your need. Each beginner is signed a guide for their lessons. The cost per hour also includes helmets and chaps.
Achi's Ranch and Horse Riding Club Contacts: 0724 932279.