Hightlight
Bird Watching

Camping Site

Caving

Game Viewing
Tsavo West National Park is one of Kenya's larger national parks covering 30 percent of Kenya's park area and contains a diversity of habitats, wildlife, and a mountainous scenic landscape. The park is a vast expanse of savanna stretching from Mtito Andei, along the western side of Mombasa-Nairobi highway and south to the Tanzanian border. The north-eastern boundary along the highway adjoins Tsavo East National Park, but Tsavo West has a more varied topography and a more diverse array of habitats than its sister. The savannah ecosystem comprises open grasslands, scrublands and Acacia woodlands, belts of riverine vegetation, and rocky ridges.


Tsavo West's landscape varies from swamps, natural springs, and rocky peaks to extinct volcanic cones, rolling plains and sharp outcrops dusted with greenery. The park was known for its famous man-eating lions in the late 19th century and then for its devastating levels of poaching in the 1980s. Despite the latter, there's still plenty of wildlife here, although you'll have to work harder and be much more patient than in Amboseli or the Masai Mara to see them all.
---
Major Attractions and Activites
Recent volcanoes, lava flows, and caves with potential for geological and cave exploration, and hiking. Mzima Springs and underwater hippo and fish watching, Ngulia Rhino Sanctuary, Lake Jipe, Mount Kilimanjaro, elephant, diverse bird and plant species.
Ngulia Rhino Sanctuary is the 90-sq-km area is surrounded by a 1m-high electric fence set up at the base of Ngulia Hills to provide a measure of security for the park's highly endangered black rhinos.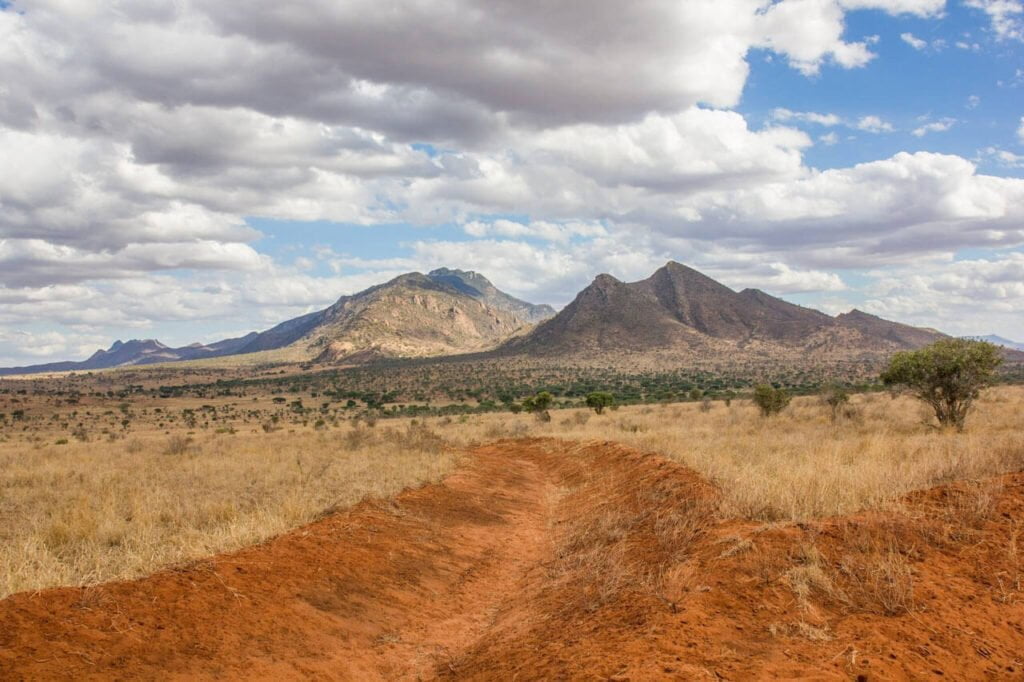 Ngulia Hills rises more than 600m above the valley floor and to a height of over 1800 m above sea level. This jagged ridgeline ranks among the prettiest of all Tsavo landforms, providing a backdrop to Rhino Valley.
Rhino Valley is one of the best areas for wildlife watching, with plenty of antelope species keeping a careful eye out for the resident lions, leopards and cheetahs. You can also see elephants, giraffes, and black rhinos. Birdlife is also particularly diverse here.
Mzima Springs is an oasis of green in the west of the park and produces an incredible 250 million liters of fresh water a day. The springs, whose source rises in the Chyulu Hills, provides the bulk of Mombasa's fresh water. There is a stable population of around 20 hippos, crocodiles and a wide variety of birdlife.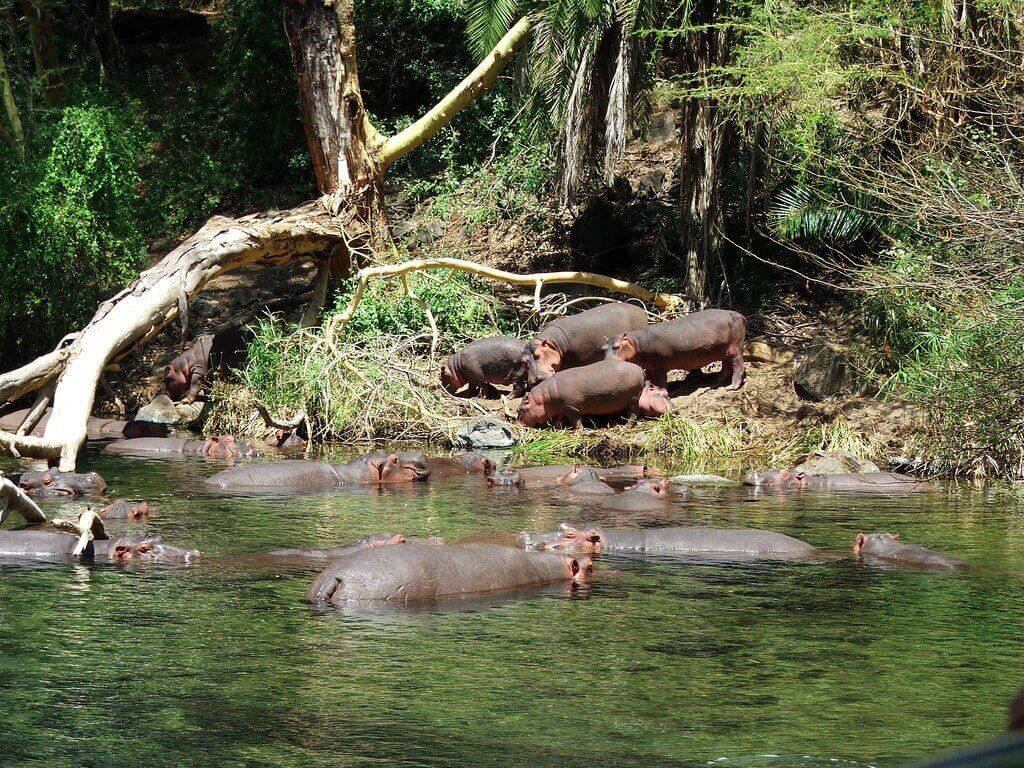 The plains, rocky outcrops and light woodland between Kilaguni Serena Lodge and the Chyulu gate are good for zebras and other herbivores, and sustains a healthy population of lions, leopards and spotted hyenas.
Just southeast of Kilaguni Serena Lodge, these two natural features: Roaring Rocks and Chaimu Crater offer stunning views of the Chyulu Hills and birds of prey circling high above the plains.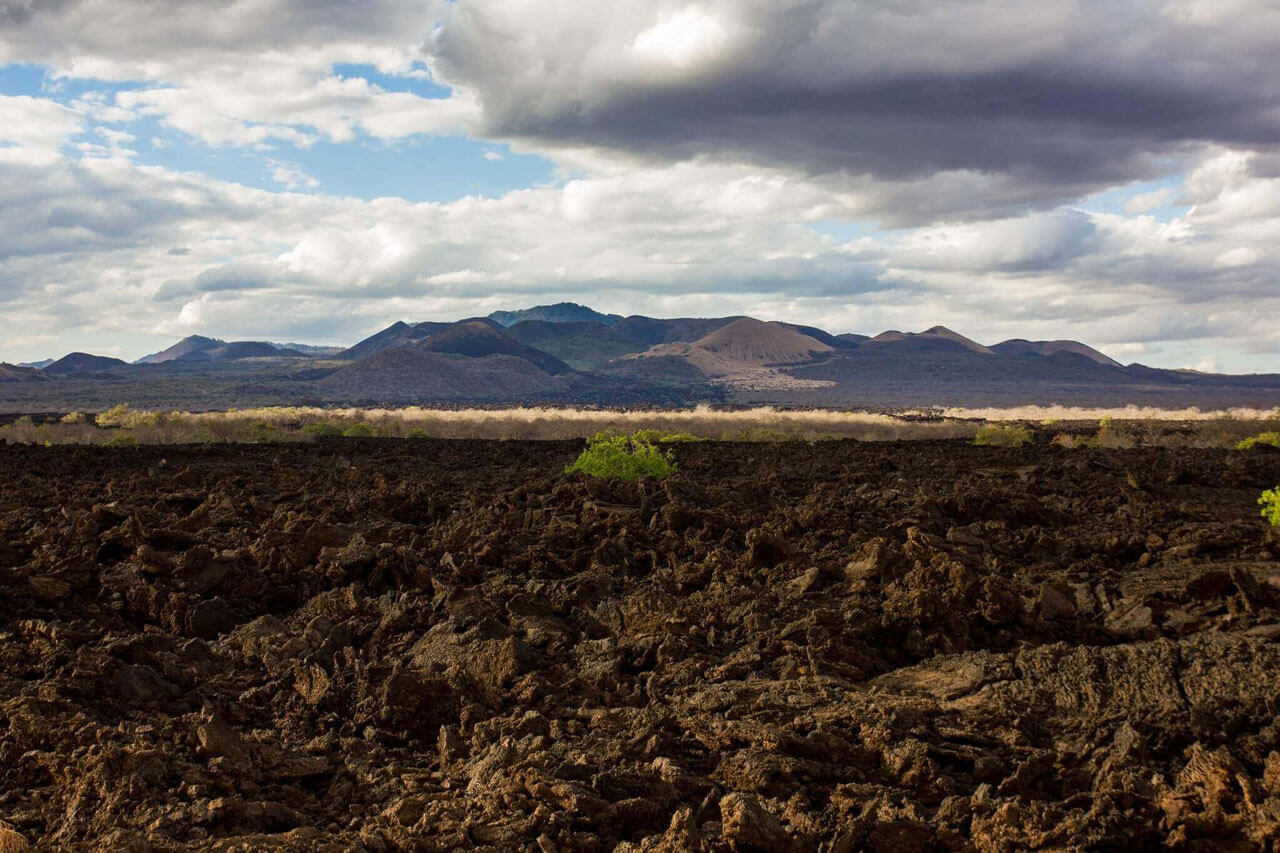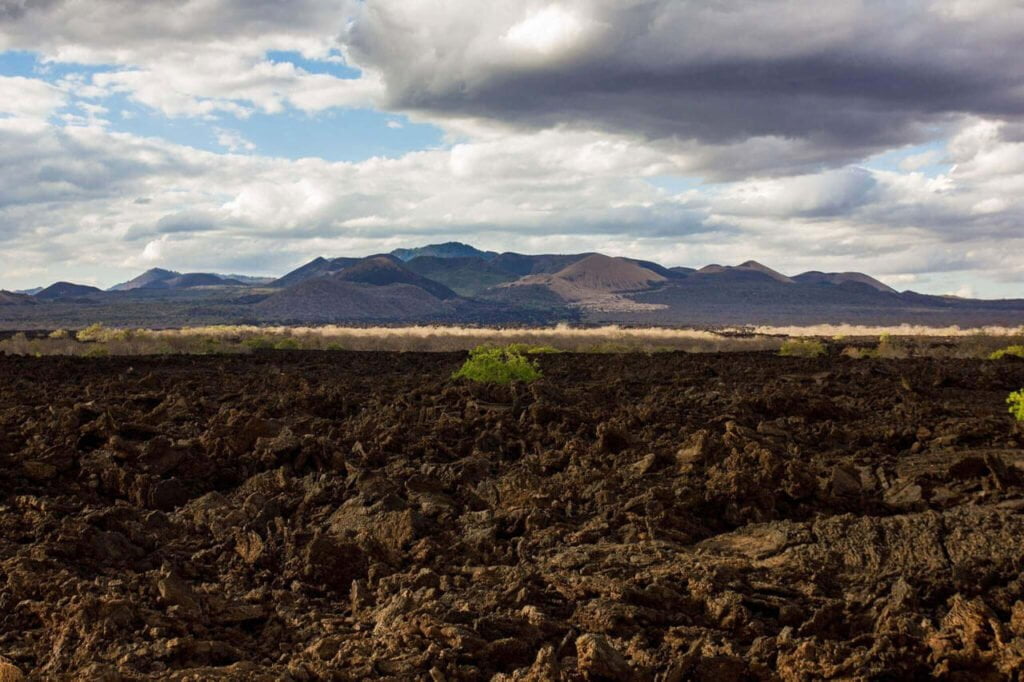 Tip: While there's little danger when walking these trails, the KWS warns in its guidebook to the park that in Chaimu Crater 'be wary when exploring since the crater and lava may shelter snakes and large sleeping mammals'.
About 4km west of the Chyulu gate of Tsavo West National Park, on the road to Amboseli National Park, are the spectacular Shetani Lava Flows. 'Shetani' means 'devil' in Kiswahili: the flows were formed only a few hundred years ago and local peoples believed that it was the devil himself emerging from the earth. This vast expanse of folded black lava spreads for 50 sq km across the savannah at the foot of the Chyulu Hills.
Running west-east through the park, the lovely year-round Tsavo River is green-shaded and surrounded for much of its path by doum palms. Along with Mzima Springs, the river provides aesthetic relief from the vast semi-arid habitats that dominate the park. The trees all along the river are known to shelter leopards.
---
Other activities include:
Boat excursion and bird watching at Lake Jipe
Annual bird ringing at Ngulia lodge
Hill and rock climbing at Chaimu and Ngulia Hills
Caving at Shetani Caves
Camping
Wildlife: Leopard, Cheetah, Wild Dogs, Buffalo, Rhino, Elephant, Giraffe, Zebra, Lion, Plains Game, Crocodile, Mongoose, Hyrax, Dik-dik, Lesser Kudu and Nocturnal Porcupine.
Birdlife: Prolific birdlife features over 600 recorded species including the threatened corncrake and near threatened Basra Reed Warbler.

---
How to get to Tsavo West National Park
There are six gates into Tsavo West National Park, but the main access is off the Nairobi-Mombasa Highway at Mtito Andei and Tsavo Gates.
By Road: The main access routes are Chyulu Gate from Amboseli and Mtito Andei Gate from Nairobi and Mombasa. Visitors from Mombasa also use Tsavo Gate near Manyani. The park can also be reached via the Taveta-Voi road through Maktau, Ziwani, and Jipe gates.
By Air: Kamboyo, Kilaguni, Tsavo Gate, Jipe, Kasigau, Finch Hattons, Ziwani, and Maktau airstrips are in good condition.
---
Other Details
Park Size
9,065 square km
Climatic Conditions
Temperature ranges from 20-30°C and rainfall between 200 and 700mm. Two rain seasons: long rains in March and April and short rains – November and December.
Park Entry Fees
Go to KWS Website or contact tour operator.
FAQ's
When is the best time to visit Tsavo West National Park?
All-year-round. The dry season (May to October and January to March) is best for spotting wildlife. November to March is the best time to see migratory birds.
Rent a matatu with other travelers in Mtito Andei; if staying in a lodge, June is much cheaper than July.
What can you pack when visiting Tsavo West National Park?
Drinking water, picnic items, and camping equipment if you intend to stay overnight. Also useful are: binoculars, a camera, hat, sunscreen, sunglasses, and guidebooks.
Google Reviews
Tsavo West National Park
4.5
3013 reviews
Nemm Tours and Safaris Ltd
6 months ago
There's a lot to be seen as long as you love to spend enough time here. Very beautiful park.

Has many wild animals even the rare ones like lesser Kudu. Many elephants, zebras, girraffes e.t.c. If you want to see more nocturnal animals some hotels inside offer night game drives where you get to see hyenas, foxes, owls and the cats. Elephants here are very aggressive so don't go too close.

Gladys Wavinya
a year ago
A place I can recommend every person to visit.

The place is so amazing with good view of animals and nicenature to enjoy

pythias matuku
2 months ago
Bioflorauna care movement is offering free education on how to create strong relationships with the wildlife and environment.