Hightlight
Bird Watching

Camping Site

Game Viewing

Picnic sites
Amboseli National Park is among the elite national parks in Kenya, eminent for being the best place in Africa to get close to free-roaming elephants. Amboseli is located in Loitoktok – Kajiado County, Southern Kenya, just northwest of Mount Kilimanjaro on the Kenya-Tanzania border. The park's observation hill provides spectacular panoramas of the immense peak and the Amboseli's swamps and plains.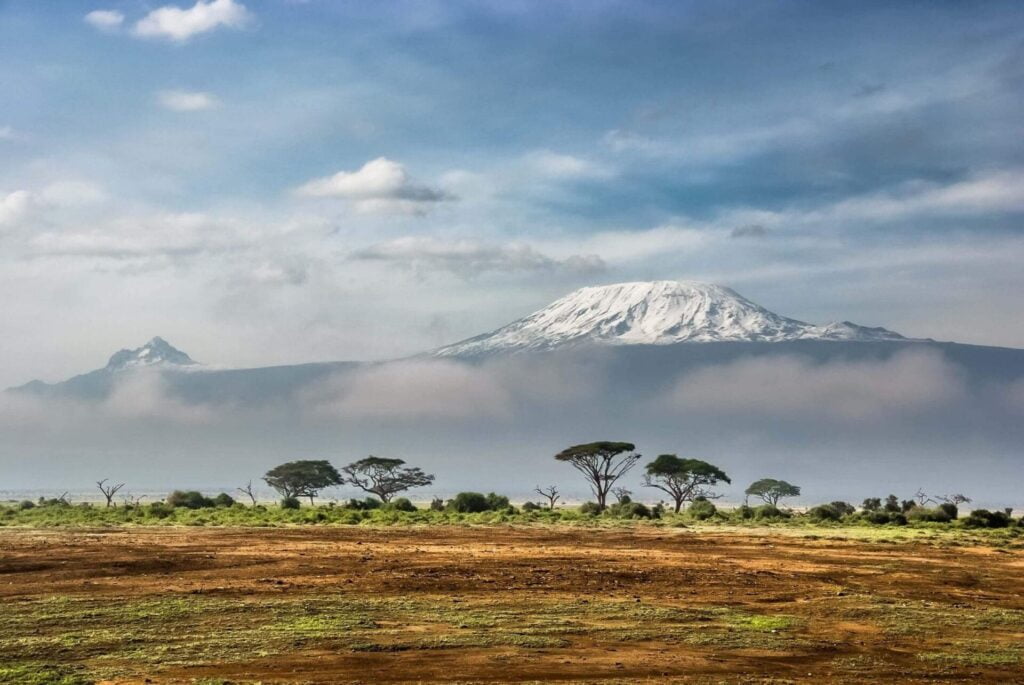 'Amboseli' derives from a Maasai word meaning 'salty dust'. The park is a perfect safari destination for nature lovers looking to explore habitats varying from open plains, wetlands with sulfur springs, rock-thorn bush, marshland, and acacia woodlands. You can also visit the park's western region that is dominated by the dried-up bed of the seasonal Lake Amboseli which flocks with water birds during the rainy season. The park was declared as a game reserve in 1948 but gazetted as a national park in 1974 to protect its unique ecosystem.
Apart from its scenic beauty and sure elephant sightings, Amboseli National Park has a diverse concentration of wildlife species including giraffes, zebras, wildebeest, leopard, cheetah, and hundreds of bird species. The local Maasai community, with authentic culture, also lives around the park.
---
Major Attractions
Amboseli National Park offers a well-managed game watching experience against the stunning backdrop of Kilimanjaro, the highest mountain in Africa.
Observation Hill is one of the only places in the park where you can get out and walk. The summit provides an ideal view of the whole park especially the swamps and elephants.
The swamp below observation hill hosts herds of elephants, buffaloes, hippos and a variety of waterfowl like the pelican and the Egyptian goose.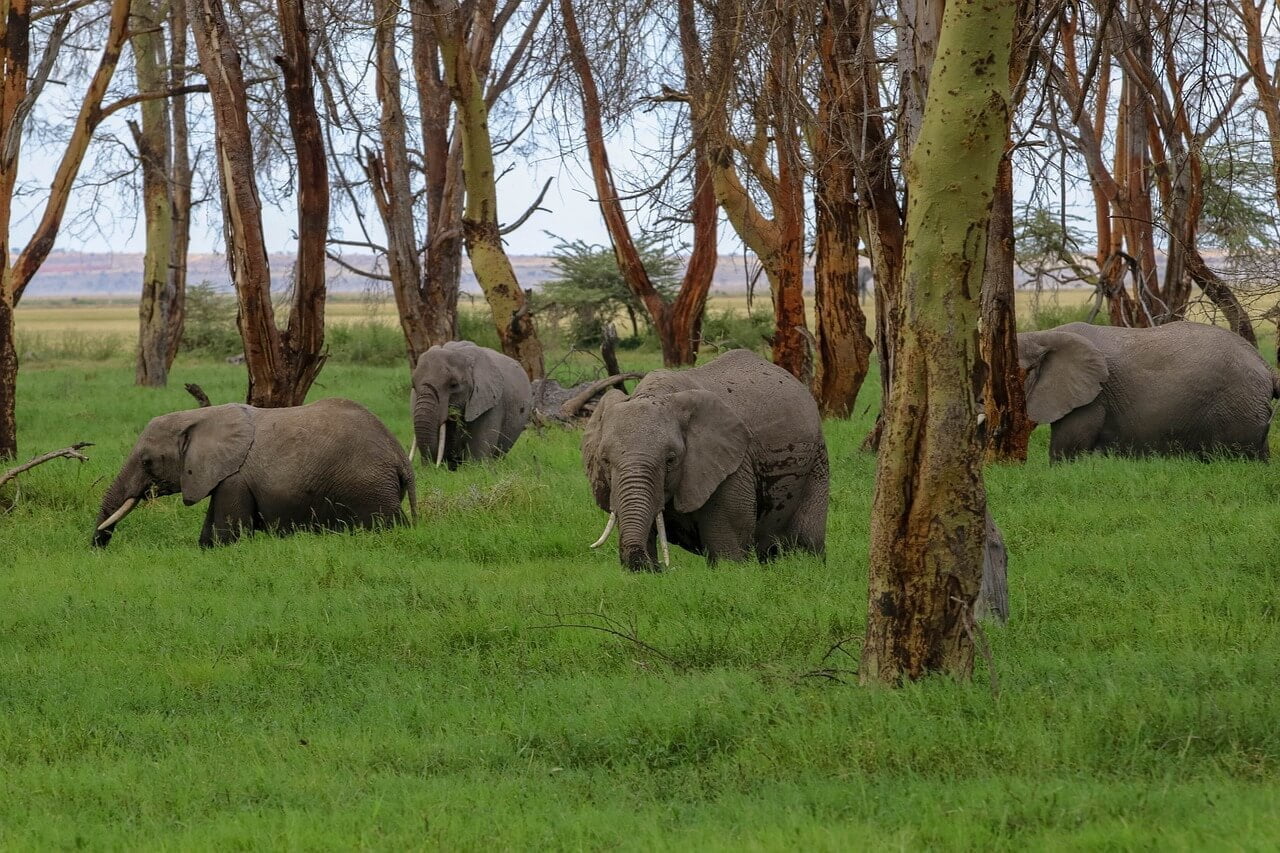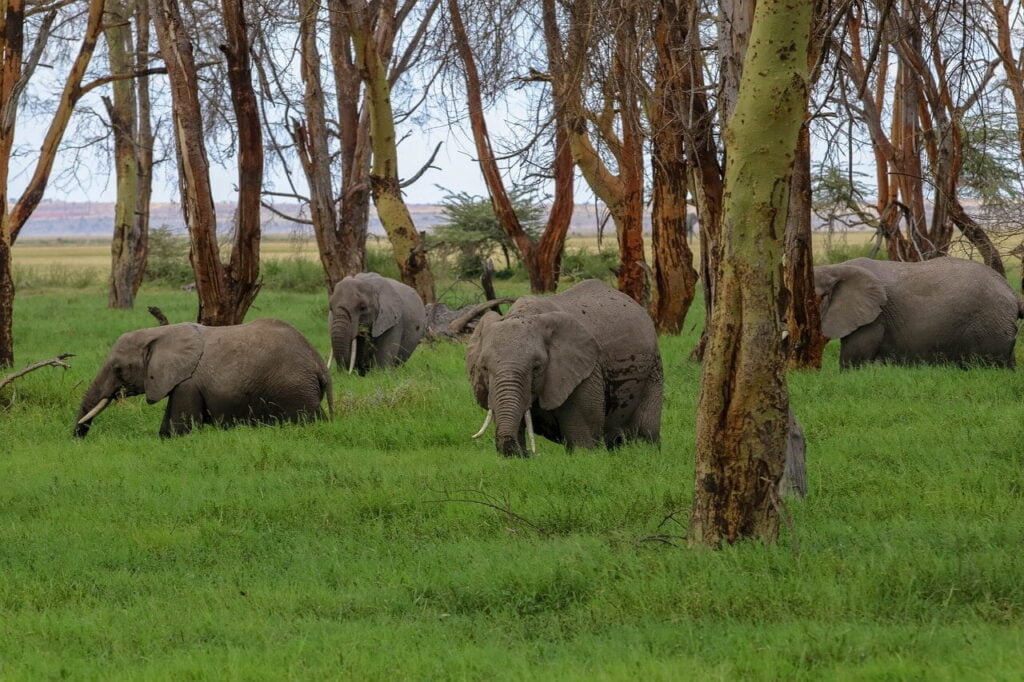 You can also enjoy the contemporary Maasai culture and indigenous lifestyle.
---
What to Do in Amboseli National Park
Game viewing, birdwatching, camping, photography
Wildlife: Amboseli has over 80 different mammals to be found ranging from the tiny (and rarely seen) spectacled elephant shrew to the huge bulk of the African elephant. Apart from guaranteed elephant sightings, you'll also see wildebeest, buffalos, and zebras, and you have a reasonable chance of spotting lion, hyena, leopard, cheetah, wild dogs, crocodile, giraffe, zebra, mongoose, dik-dik, hyrax, lesser kudu, and nocturnal porcupine.
Birds: The park has a prolific birdlife with over 600 species for both resident and migratory birds.
---
How to Get to Amboseli National Park
By Road: The main road into the park is from Nairobi via Namanga on the Nairobi -Arusha Road, through Meshanani Gate. The road is tarmac up to Namanga but is murram from Namanga to Meshanani Gate. The other road is from Nairobi through Emali on the Nairobi – Mombasa Road. Access from Mombasa is mainly through Tsavo West National Park via Kimana (Olkelunyiet) Gate.
By Air: Amboseli has airstrips at Empusel gate and at the Park Headquarters (Olkelunyiet) for light aircraft. Other airstrips are at Kilimanjaro Buffalo Lodge and Namanga town.
---
Other Details
Park Entry Fees
Check the Kenya Wildlife Service website for prices.
Park size
392 sq. km
Climate
The climate is mainly hot and dry. Temperatures range from 20-30 °C and rainfall from 200 mm-700 mm. Amboseli is in the rain shadow of Mount Kilimanjaro and experiences two rain seasons: long rains – March/May and short rains – November/December.
---
Top Tours and Activities in Amboseli
FAQ's
When is the best time to visit Amboseli National Park?
All year round, daily 6 am to 7 pm including public holidays. No entry is allowed on foot and visitors will not be allowed entry after 6.15 pm. The dry season (May to October and January to March) is best for spotting wildlife, while November to March is the best time to see migratory birds.
What can you take with you to Amboseli National Park?
Drinking water, picnic items, and camping equipment if you intend to stay overnight. Also useful are: binoculars, a camera, hat, sunscreen, sunglasses, and guidebooks.
Google Reviews
Amboseli National Park
4.7
3271 reviews
This place is small but packed full of animals. We saw more elephants than we could count. We even saw a family of two female lions with seven babies. The wildlife these is so diverse and plentiful.

Of course this place is amazing! FYI you don't need a 4x4 vehicle to enjoy a game drive. Came here with my Volvo wagon and the experience was equally pristine. The roads inside are so good for any type of vehicle. Highly recommend.

Kiv Tör (Kivtör)
4 months ago
It is simply amazing here! I have never imagined to see such a load of different animals. Every second you spend here will be great, i can promise you that. There was not a single moment in which we didn't see any animals! I would recommend a visit to this nationalpark to everyone!

My favourite national park of Kenya. The swamps attract a lot of herbivores. Near the Serena lodge we got to see both lions and cheetahs.

the little one
3 months ago
Don't count on seeing Mt. Kilimanjaro. If it happens, enjoy the blessing but don't get your hopes up. Even on a sunny day, the clouds shroud the famous mountain. Amboseli was great for birds and elephants! Scenery without Kili was rather bland but I still enjoyed going to Amboseli. The stars at night are insanely beautiful!