Watamu Marine National Park and Reserve
Hightlight
Diving

Glass-bottom Boat Rides

Snorkeling

Sun Bathing
Watamu Marine National Park is part of a complex marine and tidal habitat along Kenya's north coast. It is enclosed by the Malindi Marine National Park and Reserve which also encloses Watamu Marine National Park and Reserve. Habitats include intertidal rock, sand, and mud, fringing reefs and coral gardens, coral cliffs, sandy beaches, and the Mida Creek mangrove forest. Marine life attractions include fish, turtles, dugongs, and crabs.
The Mida Creek forest has a high diversity of mangrove species including Ceriops tagal, Rhizophora mucronata, Bruguiera gymorrhiza, Avicennia marina, and Sonneratia alba. These provide refuge to a variety of both resident and migrant bird species. Its extensive forests are gazetted as forest reserves and the extreme western tip of Mida Creek is part of the Arabuko Sokoke Forest Reserve. The park was established in 1968, and it was one of Kenya's first marine parks. Watamu Marine National Park and Reserve was designated as a Biosphere reserve in 1979.
---
Major Attractions and Activites
A haven of the Green turtle, Hawksbill, and Olive Ridley turtles.
Unique coral garden – over 150 species of hard and soft corals, such as fan corals, brain corals, and sponges.
Over 500 species of fish in the main park and over 1000 in the reserve
Mida Creek
Kipepeo Project
Gede Ruins
Over 100 species of birds.
There are also whale sharks, manta rays, octopus and barracuda as some of the larger species in the park.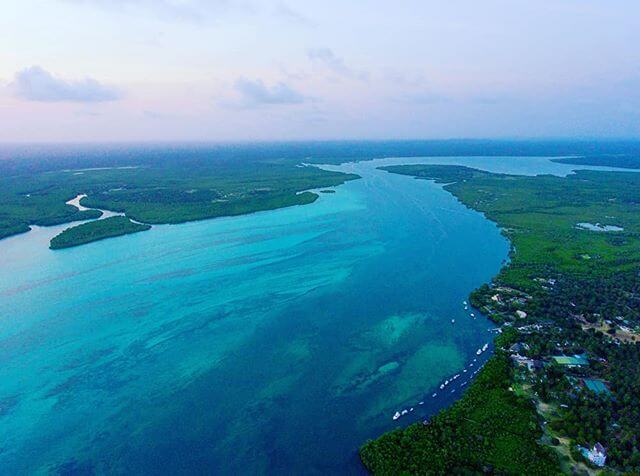 ---
How to get to Watamu Marine National Park and Reserve
Roads: Watamu is 118 km north of Mombasa and 28 km south of Malindi. At Gede, which is on the main Mombasa-Malindi Road, you turn towards the Indian Ocean. Watamu is 11 km away from the main road.
Air: You can access the marine park through Mombasa Airport or Malindi Airstrip.
---
Other Park Details
Park Size
10 sq. Km
Climate
The Coast is humid with mean annual temperatures ranging from 22-34 C. Rainfall is about 500mm pa.
Park Fees
Go to KWS Website or contact tour operator.
Accommodation
There is currently no accommodation in the reserve, a wide range of options exists in nearby Malindi town.
FAQ's
What can you pack when visiting Watamu Marine National Park and Reserve?
Footwear, e.g. sandals or flip flops (to protect your feet from the reef), t-shirts (to protect your body from sunburn), snorkel, mask, fins, all of which are available for hire. A camera, hat, sunscreen, insect repellant, guide books and plenty of drinking water.
Google Reviews
Watamu Marine National Park & Reserve
4.5
2067 reviews
BOSIBORI EYOBO
in the last week
Seeing the dolphins do their thing was, to me, the major highlight! Other highlights were getting to see and learn about eels, colorful fish, other sea creatures and of course walking on the pristine white sandy beaches. Great place for a full-day tour.

Murtaza Akberali
a week ago
This would be a dream destination. The snorkeling is amazing, a whole different world in the sea. Dolphins is a sight you would never want to miss.

I loved the snorkeling and seeing so many types of fish. The guides are great. Go on early.

Awesome dolphin safaris. I keep visiting the place. Always a lovely time out with family.

shillah Ukumbini salim
a year ago
Great reception